Mil – Raw West Cork Cold Extracted Honey with organic Propolis and 5% Pollen.
Natural, non-heated, unpasteurized, unprocessed, non-strained, pure, handmade Raw Honey from our coastal apiaries in Rathbarry, Cahermore and Knocknagappul in West Cork, Ireland.
We guarantee that there is neither water, nor sugar added.
We mix it, by hand, with the following carefully selected natural bee products:
PROPOLIS, containing bioflavonoids, has a natural antibiotic effect, and is an antiseptic.

POLLEN, which contains Amino Acids, many Vitamins, most Minerals and more.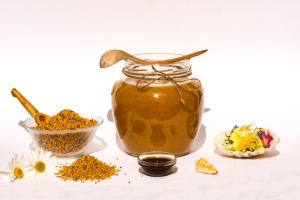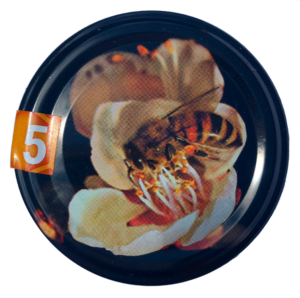 What are the main uses for our special honey mix?
It's not really for putting in hot porridge or drinks, it will destroy half of the nutrients, buy the cheap stuff for that.
Use our artisan product to:
Relieve sore throats. Nip Colds & Flu's in the bud, Use as an Energy Source, Soothe Asthma and hay-fever symptoms, Treat Wounds (really, just spread some on or use a compress), Reduce Cravings, Improve Vitality, Regulate the Digestive System, it's Highly Nutritious, use as a multi vitamin.
The mixed pollen is from Guadalajara, Spain, gathered from diverse flowers and plants.The propolis, from the same bee-keeper, is from another apiary, in the mountains, and is ORGANIC.
This honey product is on sale in The Olive Branch and Harte's Spar in Clonakilty, Ryan's Spar Express in Rosscarbery, Hudsons in Ballydehob, Organico in Bantry, The English Market and Here's Health shops in Cork as well several Neighbourfood markets.
Click here for a detailed list of shops that sell our honey mixture.
Our West Cork apiaries
Our main apiary is kept at the bottom of our weedkiller free paddocks in Castlefreke, Clonakilty. Our holding has about 350 trees and shrubs, vegetable and flower gardens, home-bred lambs or horses all maintained using mostly natural products. Our Hectare is surrounded by fuchsia's and natural hedgerows. Where modern farming has cut them down, we have been restoring the indigenous hedgerow trees and shrubs like Haw and Sloe.